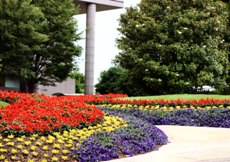 The front view of the building says a lot about the person or business inside the building. The landscape in the front and around the building can create a lasting impression in the minds of the customers coming to your premises. That is why business is booming for commercial landscapers such as UK landscapers. More and more businesses are seeing the benefits of investing in landscaping in order to improve the look of their premises. The enhancements aren't simply on the surface, there are several practical benefits that business owners should consider as they look into investing in the landscape.
Increase Employee Morale
Your employees are one of your most valuable assets and should be treated as such. By creating a well-designed environment for your staff to work in, they'll be more motivated when they come to work each day. All of this isn't just about earning good karma either. In fact, a recent study from the University of Warwick has established a clear link between a worker's happiness and their subsequent performance levels. Google, and many other leading companies, place particular emphasis on employee satisfaction ratings, as it helps ensure they can attract the best people in their industry.